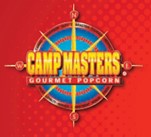 The North Florida Council has partnered with Whitley's Peanuts and Campmasters Gourmet Popcorn to help YOU raise the funds needed to have an unforgettable year of program. The flavor variety of peanuts and popcorn, the beautiful tins, and the ease of ordering will save you time so you can get back to Scouting! The Fall Product Sale is designed to help each youth raise money for program items and their membership fee. Together we can make sure each Scout has the funds needed to participate in this amazing program. Here are some key highlights:
New Flavors!
Tins for popcorn and peanuts!
Online sale for peanuts and popcorn
Whitley's Show and Sell Order Link
Calendar Events for the Fall Product Sale
To Sign Up for the Fall Product Sale - Click Here
How to Order Popcorn for Unit Leaders
How to Set Up Online Sales - Basic
How to Set Up Online Sales with Campmaster - Detailed
Fall Product Sale Kickoff Power Point Presentation

Please email Joseph Orr at joseph.orr@scouting.org for any questions.